There are three laboratory areas installed at the airport: one in each Terminal 2, 3 and 4 of the Cancun Airport.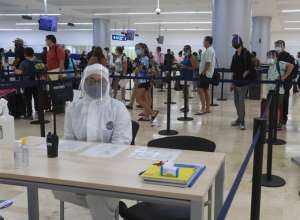 Open from 6:00 AM – 9:00 PM everyday
First come – first serve. There are no appointments available
ANTIGEN TEST: Required for entry into the USA, results in 30-60 minutes. Plan your time accordingly. COST: $290 Pesos
PCR TEST: Required for entry into most other countries, results in 24 – 48 hours. COST: $2000 pesos
Prices, hours and locations may change with no notice.
It is STRONGLY RECOMMEND that you arrive to the Airport with your test results already in hand, especially if you need a PCR Test. The mobile units should be used as A LAST RESORT in case you were not able to get a test in advance. Many hotels and travel companies offer the test for free, so please check with them first.
Most major hotels in Cancun, Riviera Maya, and Tulum are offering Covid-19 Testing services to their guests for free or discounted fee. Contact your hotel DIRECTLY for information.
If you are not staying at a hotel CLICK HERE to download a PDF of a list of labs providing Covid-19 Testing. This list is provided by the local authorities and may change at any time.
This is for information purposes ONLY and IS NOT intended as a policy or official protocol. CARM TRANSFERS IS NOT liable or responsible if the information changes or is inaccurate at any time.